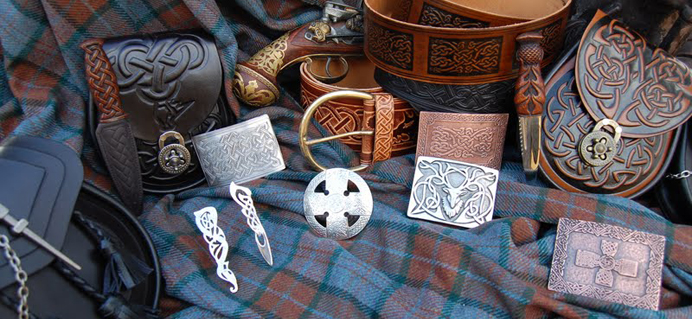 Highland Dress
View our fantastic range of Highland Accessories: Sporrans, Kilt Pins, Kilt Buckles, Kilt Belts, Sgian Dubhs & Cufflinks
This extensive range of highland dress accessories provides everything a Scotsman needs to provide the finishing touches to the kilt or plaid. All our range of products are high quality and made to last for many years.
Our Kilt Belts and Kilt Buckles are handmade in Scotland in a wide range of metal types, including nickel-silver-etch, brass-etch, sterling silver-etch, solid cast pewter buckles and a wide range of plated finishes, including gold-plating, shiny silver-plating, antique silver-plating, antique copper-plating and antique brass-plating. This provides a great choice for creating an individual expression of wearing the highland dress in more ways than the traditional.
Our Kilt Belts are handcrafted in Scotland using the finest, full-grain leathers. Black & brown Italian cow shoulders are used, or more supple black, brown or tan buffalo leathers. We also emboss British bridle leather with a wide range of Celtic designs, then hand-dye them in two different colours, to highlight the fine details. The finished result is a unique, eye-catching Kilt Belt which will make the wearer 'stand out from the crowd'.
Our range of leather sporrans are handmade in Scotland and are available in a great choice of designs. Unique fastenings which are stylish, yet functional and all the high quality leathers are hand-dyed.
Our Cufflinks and Kilt Pins are also very popular and are available in lead-free pewter in a variety of Celtic or Scottish inspired designs and also in sterling silver. Both types of cufflinks have the same high quality torpedo style backs and the kilt pins have security twist catches on the back to fasten safely onto the kilt.
Again, we can offer a plating service of gold or silver-plated cufflinks and kilt pins which result in a high quality product at a fraction of the price of solid gold cufflinks.
Finally, our range of Sgian Dubhs offer a variety of choice and price, for any pocket. From quality resin handles, with real leather scabbard and stainless-steel blade, to the highest quality bog oak handle, with sterling silver trim - there is something for everyone. All our Sgian Dubhs are made in Scotland or UK.