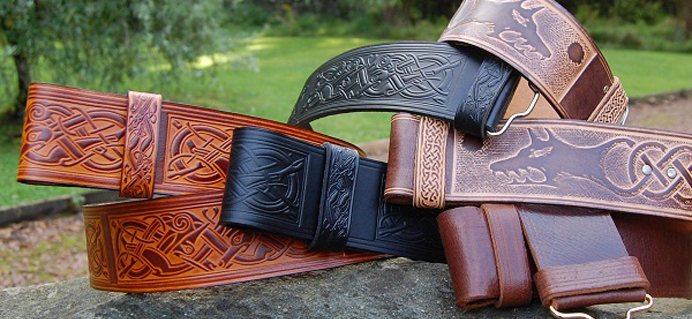 Kilt Belts
Finest Italian Leather and Celtic hand-dyed leather Kilt Belts. You can purchase one of our quality kilt belts on its own which should fit most standard kilt buckles, or as a complete kilt belt & kilt buckle.
Our Kilt Belts are all handcrafted in Scotland, or in UK. The choices include high quality, full-grain leather in a plain & tradtional style, to the more elaborate Celtic embossed and hand-dyed Kilt Belt.
We use only the best quality full-grain leathers which differ from leather 'splits' which are widely available. Splits are thin layers of leather which are backed, glued or stitched onto a cardboard compound, making them have a short life with cracking often showing after minimal wear.
Our leather Kilt Belts should last a lifetime, often improving with wear! They are unique and offer the chance to stand out from the crowd!
We offer Kilt Belts without buckles, which are 2.25" wide, fitting most Kilt Buckles on the market. We also offer complete Kilt Belts with the Leather Belt and Kilt Buckle fitted to the Kilt Belt.
Our Kilt Belts have a narrow 3/4" back strap which allows for 3" maximum adjustment, including a kilt buckle.
When ordering a size, please measure over the kilt, above the waist and request this size.
(Please do not use standard jeans/trouser sizes, as these may be a couple of inches smaller than an accurate measurement over the kilt).